My Telescope Project

An 8.75" f7.4 Dobsonian Reflecting Telescope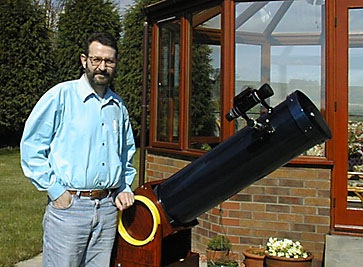 Background
I was gifted the mirrors (manufactured by David Hinds circa 1978 and sold by Fullers) from a friend at work, so I decided to build a Dobsonian Telescope based upon the designs in Richard Berry's book.
I have used some alternative materials because of problems in finding the original materials here in the U.K.
The Optical Tube Assembly
I could not find suitable 'Concrete Form Tube'(Spiral Wrapped Paper) anywhere. On the advice of Barry at Beacon Hill Telescopes I decided to try using PVC-U Pipe. The tube I used is OD 250mm and 2.5mm thick , manufactured by "DEKADUR". I bought an offcut from a local company that manufactures ventilation systems.
The tube was a little over 66" long and just squeezed into my car.
Painting the Tube
This was actually the most time consuming part of the whole project! Because I didn't want the telescope to look like 'a piece of grey plastic drain pipe', I had to find some way of painting it. - Here is how I did it:-
First I rubbed the outside shiny surface of the tube with some fine 3M sysnthetic steel wool.
The paint I used for the outside of the tube was 'Vauxhall Spectral Blue Pearlescent' aerosol spray acrylic paint which is available from Halfords car accessory shops in the U.K.
It took 6 cans of paint to put on 3 coats.
I masked the top and bottom and the various holes for focuser and finder,then I sprayed the tube with it standing vertically. Spraying vertical strips in a horizontal side to side fashion. Releasing the spray button at the end of each stroke. The first pass looked great, but I soon found that adjacent passes caused overspray. This overspray could actually be wiped off as it was dry paint particles. I did at one stage consider making a hardboard vertical mask to try and stop the overspray from landing on previous good finish. I eventually stopped worrying about it and just concentrated on getting a finish without any runs. Several light coats are better than few heavy coats. Rubbing down is the key to getting a good finish.
I waited a day between coats before rubbing down the paint with 1200 grit wet and dry silicon carbide paper. Cleaning well with water and drying before the next coat.
I then put 2 coats of clear acrylic laquer over the top, rubbing down the first with 1200 wet & dry and finishing the final coat with 'Brasso' metal polish. (Again I waited a day between coats before rubbing down)
I almost gave up in despair when I saw what the finish was like after the second coat of laquer, until I rubbed it back with 1200 Wet & Dry then polished it with the Brasso, I was amazed! - The results are pretty good, looks very like a highly polished deep blue metallic tube.
The inside of the tube is painted with 2 coats of matt black paint. I didn't spray the inside, instead I bought a can and painted it with a brush. I found a brush with an angled head and long shaft which is designed for painting behind radiators to be ideal for the job.
I put the tube horizontally on some clean polythene sheet on top of my 'workmate' and then I could rotate the tube while I painted the inside with the long brush, this way I didn't scratch the outside finish on the tube.
Focuser
A commercial rack and pinion focusser that takes standard 1.25" eyepieces was used.
Primary Mirror Cell and Secondary Spider mount
. Beacon Hill Telescopes produce custom built aluminium mirror cells and 4 vane spider mounts at quite reasonable prices.
The Mount
The Dobsonian ALT/AZ mount consists of two bearings:-
The Azimuth Bearing
3 Teflon (PTFE) pads support the rocker box which has an old LP Vinyl Record fixed to the bottom and a central pivot bolt. The Teflon pads are mounted onto a thick hexagonal baseboard directly above 3 Plastic Donut feet which were salvaged from a wooden pallette.
The Altitude Bearings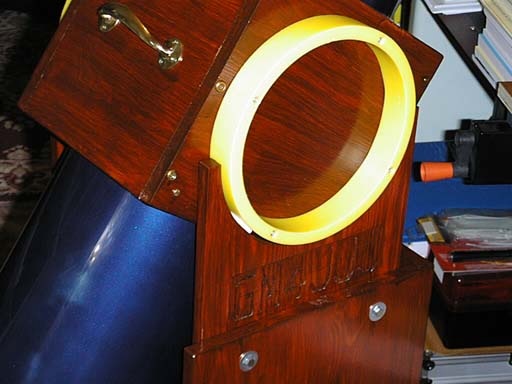 Two Altitude rings made from thick walled polypropylene pipe are supported by pairs of Teflon Pads. The pads are mounted onto the curved sideboards of the rocker box. I got a friend with a homemade CNC router to cut out the circles in the sideboards.
Dust Caps
'Mop Caps' from our cleanroom at work are freely available and make excellent dust covers for both ends of the telescope tube. They let moisture escape but keep dust out.
Finder Scope
A 7 X 50 finder was obtained from Beacon Hill Telescopes. It is of their own design and uses optics from Binoculars. The finder gives an upside down image, just like the Telescope.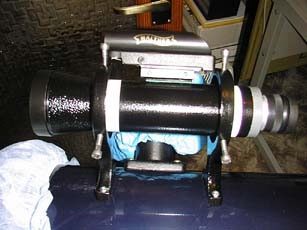 Red Dot Sight
I also fitted a red dot sight to the finder, this was obtained from a local target shooting supplier and is excellent for pointing the telescope in the correct part of the sky, this then allows the finder to be used to find dimmer objects.
My homemade Dobsonian 8.75" f7.4 Telescope.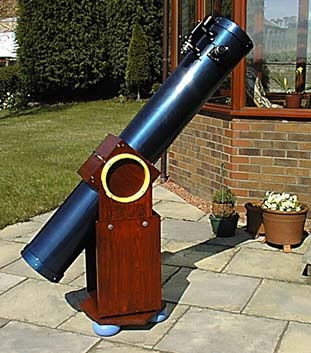 Future Plans
I plan to add Digital Setting Circles to the Telescope. I am currently looking into the Sky Commander DSCs.
I have a small 12 volt DC Fan to fit to the rear of the mirror cell to speed up the cool down time of the mirror.
Suppliers
If you live in the U.K. I can recommend:-
Beacon Hill Telescopes 112 Mill Road, Cleethorpes, Lincolnshire DN35 8JD U.K.
Tel:01472 692959
Barry Watts can supply just about anything you need to help you build a telescope. Mirror Cells, Spiders, Altitude Rings,Teflon,Finder Scopes and Focusers.
---
Reference Books
Construction of telescopes is covered in detail in the following books:-

Building Your Own Telescope
Richard Berry
ISBN 0-943396-42-5
Published by William-Bell, Inc. 1994
Details the construction of five astronomical telescopes from 4" to 10" aperture.
The Dobsonian Telescope - A Practical Manual for Building Large Aperture Telescopes

David Kriege & Richard Berry
ISBN 0-943396-55-7
Published by William-Bell, Inc. 1997
Details the construction of modern Truss Tube Dobsonian Telescopes from 14" to 40" aperture.
Also a small section on a modern version of the 8" Dobsonian telescope.
---
Want to build an Astronomical Telescope?
Then check out these plans for building a Dobson Telescope courtesy of the San Francisco Sidewalk Astronomers.
http://www.sfsidewalkastronomers.org/?page=building-telescopes
Note: Please don't ask me for specific plans for my telescope - I do not have any available - the design depends on what optics (mirrors) you have available or make/buy, I can only refer you to the references above, which will give a determined builder all the information they need.