Ham Radio LCD Clock Utility for Macintosh OS X and Windows
Displays UTC or Local time and date.

12 hour or 24 hour format.

Choice of backlight colours.

Dock Icon also shows the clock.


V2.0.7
New - Choice of Floating Clock, which on the Macintosh can be semi-transparent or opaque.
Right click (or ctrl click) on the clock to see a pop-up menu choice.



Can check for new versions automatically at start.
Localised day of week for English, French, German, Spanish and Italian.
LCD Clock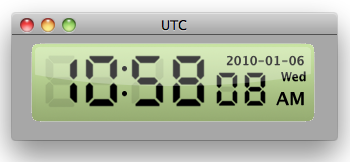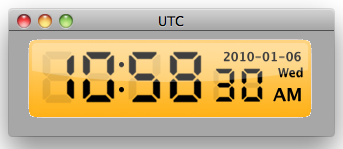 Free Download


Macintosh OS X Universal Version



Macintosh OS X version
Download now
V2.0.7 build 4


V 2.0.7
New Updater



Windows version
Download now
V2.0.7 build 4