Gary Friedman's new Complete Guide to Sony Alpha 700
Now Available!
The Complete Guide to Sony's Alpha 700 Digital SLR Camera by Gary Friedman!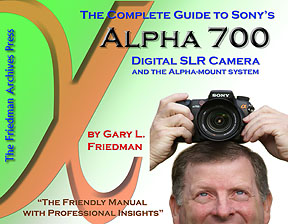 Finally, an easy-to-understand manual that is a match for the camera it describes!
Gary Friedman's book on the Sony Alpha 700 (aka, "Sony A700") digital camera provides a complete instruction manual which explains each feature in plain English and provides hundreds of visual examples as well.
In this 465-page (!) full-color book you'll learn:
What every mode, knob, and button do - in plain, easy-to-understand text.
The secrets of taking outstanding photos.
A clear understanding of Dynamic Range Optimization (DRO), and examples of where it succeeds and fails.
All about the 8 flash modes - including an entire chapter on Wireless Flash!
The most common digital "jargon" and what it all means to you.
An introduction to the image editing software that comes with your camera, and how to get the benefits of shooting RAW.
Get the most out of your investment - Learn about the wonders of digital imaging and improve your photography at the same time!
I first bought Gary's Konica Minolta 5D book (in B&W printed) and PDF, when I got the Sony A100 I also bought the PDF version and didn't bother with the printed version. The two books were similar of course, because the cameras were so similar in many respects. I bought the PDF version of the Sony A700 one, it covers a lot of new things in the A700 , especially the world of DRO.
For somebody new to the Sony/Minolta DSLR world this is an essential book, as it will give you all the information and understanding you need to make the most of your camera. If you are a very avid reader of internet forums such as Dyxum and DPR and have studied your camera and instruction manual in great detail then perhaps you don't need it so much, but as usual Gary brings his own great style of writing to the book and there are always nuggets of gold in there.